Submitted by brett on Tue, 20/09/2011 - 10:00
Since the introduction of iLife for Mac OS, iMovie has made video editing easy for all users of modern Apple computers.
In mid-2010 Apple made video editing mobile bringing iMovie to iOS, taking advantage of a faster iPhone 4 and updated iOS 4 software. Recent updates brought a more polished UI, new themes (audio, transitions and titles) and the availability of iMovie to the iPad.
In this post I'll be using iMovie 1.2.1 on my iPhone 4. A recent trip to a friends farm provided some content and an excuse to give iMovie on the iPhone a try.
Content Needs to be on the Phone
Before you begin make sure all your media you want to use is on the phone. If like me you sync all your photos and video taken with your phone with iPhoto and delete the originals, then sync them back to your phone with iTunes. If you have any photos taken from another camera, sync those to your phone with iTunes as well. iMovie also lets you record voiceovers, video and photos from within the app.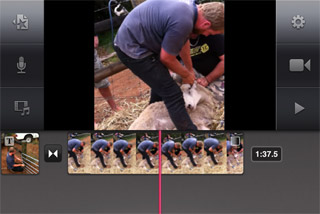 Portrait video, can't be zoomed!
Video from the iPhone, a Tip...
Something i discovered using iMovie on the iPhone - you cant zoom video! Unlike pictures which can be zoomed and Ken Burns-ified, video can only be rotated (oddly, images cannot). Keep that in mind when shooting for your next iMovie for iOS project, use all landscape or all portrait. Considering output from iMovie is 16:9, shooting in landscape is preferable.
It's all about Gestures
iMovie excels at using gestures in an intuitive way; there is no mouse cursor or timecodes here to set in and out points for video! In the editing view, pinch/zoom is primarily for scaling your view of the timeline. Undo is available via the familiar shake of the phone. Dragging clips around to organise your timeline works surprisingly well.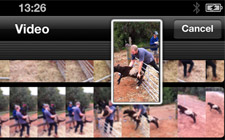 Hi-ResVideo Preview
One of the more useful gestures is the tap and hold when adding videos. This gesture shows you a better quality preview of your clip allowing you to set in and out points before you insert the clip in the timeline.
As the timeline gets crowded (iMovie allows 4 audio tracks along with the video!) this is something I quickly learned to do. One gesture that didn't seem to translate well was the slicing of video, that is to cut a length of video in two. In my project slicing seem to work randomly depending on each clip.
A list of gestures can be found in the Projects screen (bottom left, ? icon). Incidentally, renaming your project, albeit not obvious, can be done in the Projects screen as well.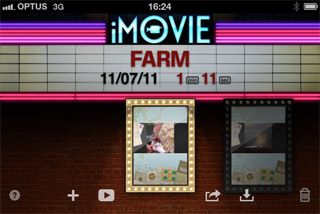 iMovie Projects screen
The End of Boring Home Videos
iMovie ships with themes to easily style your movie, and I'm sure we'll start to see a slew of YouTube videos that look great thanks to Apple.


Clip Settings to apply Themes
A theme provides music and titles (read: graphics) that can be applied, and reapplied at any stage to your project, although its not overly obvious how to fully implement themes to your timeline after you have selected one the 8 themes available in the project settings. Double-tap a clip in the timeline, and tap "Title Style" to add either Opening, Middle or Ending graphics to your clip.
Exporting is great, AppleTV is better
Once you have finished editing, iMovie for iOS lets you export you clip to numerous sources including iTunes, YouTube, Facebook and Vimeo. But for me, the highlight is playing to a AppleTV (second generation, AKA the black one). Watching your masterpiece is as simple as playing the finished movie in iMovie on your phone and then pressing the AirPlay button in the video controls to send it to an AppleTV connected on the same network. Make sure your iPhone is running iOS 4.3 and your AppleTV is up-to-date for this feature to work. Read more about AirPlay on Apple's site.
Here is the final movie!
In my next post I will look at editing videos from multiple sources, including AVCHD, using iMovie on an iPad 2.
iMovie is available from the App Store for $4.99 US
b
Submitted by brett on Thu, 01/09/2011 - 14:07
At Shedworx we've started buying our MacBook Pros with SSD storage rather than the old fashioned spinning hard drives. The SSDs are just so much better on all fronts (except price!) and we're really happy with them. But what about upgrading a MacBook Pro to SSD? Should you do it? Is it worth it? Read on to see how Brett figured it all out...
A month before Mac OS 10.7 aka "Lion" was released, my laptop started feeling sluggish. The timing was suspect; I joked that it was a conspiracy by Apple to slow my machine down somehow, thereby forcing me to throw cash at one of those beautiful MacBook Airs. July 20 came and went, and a week later, after checking with Roaring apps that my applications would actually work under Lion (surprising yes!) I took the plunge and upgraded via the Mac App Store.
With Lion the machine felt faster, no doubt. But it was an old machine. Cold booting took over a minute to get to the Finder. Java apps were eye-stabbingly slow. It was time for an upgrade.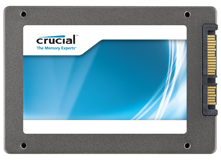 Crucial M4 256GB SSD
The Patient
My laptop is a "Late 2008" MacBook Pro, the first of the unibody manufacturing process. Processor is a 2.53 GHz Core 2 Duo, with 4GB RAM and a 320GB Hitachi Travelstar drive at 7200rpm.
The Parts
I'm replacing my hard drive with a Crucial M4 256 SSD. It had good reviews on Newegg, and I had read anecdotally that it worked well in my specific model MacBook Pro. It supports TRIM, although Mac OS since 10.6.8 has TRIM suport for Apple-branded SSD's only. The M4 has Garbage Collection for this situation, which apparently does the same thing. The M4 suports SATA III (6GB/s) but is backwards compatible with my MacBook's SATA II (3GB/s) connection for the hard and optical drives.
The late 2008 MacBook Pro is advertised as having a RAM ceiling of 4GB, although it can address 6GB with no problems. I bought a single 4GB module of 1066MHz DDR3 SDRAM, to replace one of the 2GB modules. Putting different size RAM modules means no interleaving, but the tradeoff is negligible. This article on Bare Feats has all the juicy details on putting more RAM than advertised spec in this MacBook Pro.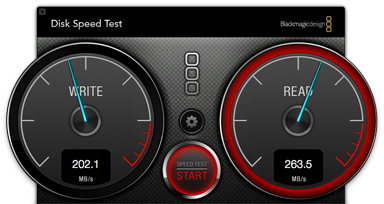 Solid State Drives: fast!
The Surgery
I backed up my drive (doesn't everybody?) to my external USB drive, which has 2 partitions, one for Time Machine and another for SuperDuper! to make a bootable image of my drive if things really go bad. Changing the drive was simple, in fact it was easier than replacing the RAM, which was unusual. Stark contrast to replacing a hard drive in a clamshell iBook -- that was a nightmare.
These first unibody MacBook Pros come with an removable cover on the bottom of the machine, exposing the battery and hard drive. A phillips and mini-torx screw driver are all that is needed to replace the hard drive -- its amazingly simple. The remander of the case must be removed to insert the new RAM module.
The next revision of the MacBook Pro would see this easy access to the drive and battery removed from the case design. Maybe people are not upgrading to justify the extra step in the manufacturing process? Only Apple knows...
Prognosis
Its faster. A lot faster. Its the kind of "no-brainer" upgrade I wish I had done 6 months ago. I installed Lion from a bootable DVD, and all other applications and start up items on the new SSD so my environment was similar pre-SSD. Using a free disk speed test app from Black Magic showed the SSD's capability to be significantly faster than the Hitachi:
| | Read | Write |
| --- | --- | --- |
| Hitachi 320GB 7200rpm Travelstar | 56.7 MB/s | 54.8 MB/s |
| Crucial 256MB M4 SSD | 263.5 MB/s | 202.1 MB/s |

This is using a SATA II connection typical of this model. 2011 MacBook Pro's have been upgraded to SATA III and I would expect read/write throughput to be even faster -- Crucial claim up to 415 MB/s read speeds.
Here are some application launch times: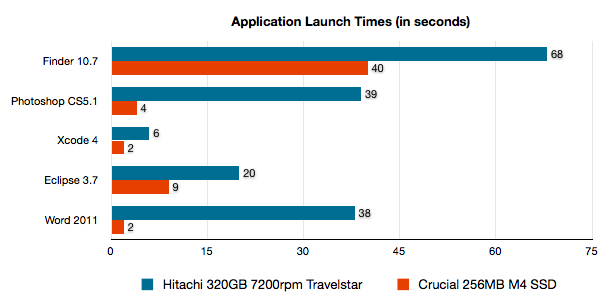 The times for Finder 10.7 refer to a cold boot until I saw the icons on my desktop. I was expecting this to be faster with the SSD especially compared to the differences with other applications. Still, a saving of almost 30 seconds when starting up is great. Shutting down and waking from sleep has also improved greatly I have noticed.
The biggest gains are obviously from the applications I use daily. I could not believe the speed differences with the "bloated" apps that Photoshop and Word have become. They pop up almost instantly! No more hesitation to open up that PSD or Word document...
Final Thoughts
No doubt the actual drive is faster, but I believe the SATA connection is also running at a higher (read:maximum) speed. In the system profiler, the Serial ATA information showed the Travelstar connected at a Negotiated Speed Link of 1.5GB/s. This new Crucial M4 is using the full 3GB/s bandwidth which is welcome. Im unsure what real world differences installing more RAM has had, although giving more to RAM hogs like Photoshop will undoubtedly be beneficial.
There is a tradeoff with these SSD's of speed versus space, especially being expensive compared to traditional hard drives. I've lost 64GB in space which means ill have to be more diligent in deleting and archiving files I no longer use.
Overall I extremely happy with the upgrade and highly recommend it.