Submitted by justin on Sat, 04/06/2011 - 06:00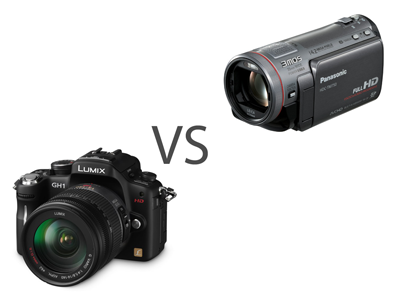 For the past 12 months we've been using our regular HD Camcorders and also some of the new Digital SLR video cameras.
The Digital SLRs are very impressive video cameras, but there's some gotchas.
This review pits the Panasonic GH-1 Digital SLR against the Panasonic HDC-SDT750 (also sold as the TM750) HD Camcorder.
Handling
Weight
The TM750 weighs in at 450g while the GH-1 is 850g. In fact, the GH-1 lens weighs more than the entire TM750. If you've ever had to shoot a long scene with your camcorder, this is a big deal. In our real world tests, it is easy to hold up the TM750 in one hand for long periods. The GH-1 takes two hands to hold it for for long periods and eventually gets too hard!
Zoom
The TM750 camcorder has powered zoom while the DSLR is manual. This means that you really can't zoom while shooting with the DSLR, while its easy with the camcorder. Even on a tripod, zooming on the DSLR moves the camera far too much to keep shooting.
Auto-focus
The DSLR has a narrow depth of field (DOF) which gives you the 'professional' look where your subject is in focus while the background isn't. The problem with this is that the camera has to work hard to auto focus, especially in a moving scene.
The camcorders on the other hand have a very wide depth of field (like a compact still camera) so don't need to do much at all to keep the subject in focus.
The result of all this is that DSLRs really struggle in high movement scenes while the camcorders do a very good job.
Shooting Conditions
In a crowd
Because of it's narrow DOF, the DSLR will find it impossible to auto-focus into a crowd scene. It will always focus on the nearest person, leaving everyone else out of focus. If you have to shoot someone in a crowd you will have to go to manual focus. Manual focus isn't easy with a video camera.
The camcorders do a good job in a crowd because the whole crowd will be in focus, so you can just zoom right in to your subject.
Action scenes
In fast moving scenes the DSLR falls down again because of it's need to continually auto focus. Te camcorders shine again due to their limited need to change focus as subjects move around.
Powered zoom on the camcorder lets you shoot one-handed and zoom, allowing you to keep tracking your subject. The DSLR requires two hands to hold and zoom, and you will probably lose your subject when you bump the camera around.
Video Quality
For this article I'm going to look at video quality under action or high-movement scenes. This is the technical bit of the article. The short answer is the GH-1 struggles while the TM750 does a good job. Read on to find out whats going on under the hood...
When shooting video yourself, panning is not good. You should avoid panning as a rule since it creates too much movement and the consumer cameras just can't handle it.
Having said that, if you want to take a sport or action video, panning has to happen.
DSLR video cameras (and cheaper camcorders) suffer from what is known as 'rolling shutter'. This is caused by the image sensor taking some time to record each frame, and the sensors scans from top to bottom. It means that the image recorded at the bottom of the frame is slightly different to the image recorded at the top.
Camcorders are less prone to this due to a number of reasons but the main one being that the high-end consumer camcorders use multiple sensors (rather than one for the DSLRs) and have built-in processing software to deal with this.
Rolling shutter, and a number of other problems that come up with fast panning, can be reduced on any DSLR by using a higher frame rate (the GH-1 can shoot at 50 frames per second) and higher shutter speeds. The manual controls on the DSLR video cameras are very good and you can control shutter speed, just like shooting still photos. If you do this remember that shutter speed on a video camera works the same as for your still photos - go too quick and you will not get enough light.
With its 3 sensors and better video capture, the TM750 camcorder easily out-performs the GH-1 in this area. Its more than out-performing too. Fast action shots at Full HD (1920x1080, 25fps) on the GH-1 just don't work. The quality is almost unwatchable.
Conclusion
The Panasonic GH-1 got rave reviews from Indy filmmakers all over the world because it gave them professional video results with a $1,500 camera. These rave reviews made it look like the new DSLRs would take over the home video world.
Under ideal conditions (like you get when shooting a movie) the GH-1 is outstanding. See our Parrot video for a sample. Put a DSLR video camera in the real world and the story isn't so good.
Throw in busy scenes, fast moving subjects, camera panning and low light and the traditional camcorders look a lot better.
If you need a video camera for all those usual things like family events, sports, holidays and so on, I recommend a top of the line HD camcorder. Panasonic is still our number one choice, but you won't go wrong with a Canon or Sony.
If you want to get creative and take control over your movies, the Digital SLR can be for you.
For me, it's back to the HD camcorder for regular video shooting. The GH-1 will be our special project camera.