---
Making HD movies with Movie Maker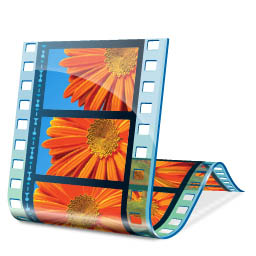 This guide will show you how to manage your new AVCHD high definition camera and make Full HD movies with Microsoft Movie Maker and VoltaicHD for PC.
Copy your clips off your camera
Please see our article on Managing HD Video for our recommended approach for this.
All you need to do is copy the MTS or m2ts files off your camera onto an area on your hard drive.
Convert your clips using VoltaicHD
Take the event you have just copied off and convert to WMV using VoltaicHD.
Set your output directory to the place where you want your clips to end up. Again, please see our article on Managing HD Video for ideas on this.
Open Movie Maker and create a new project
Go to File->New Project
Save (and name) your Project. Movie Maker will look something like this: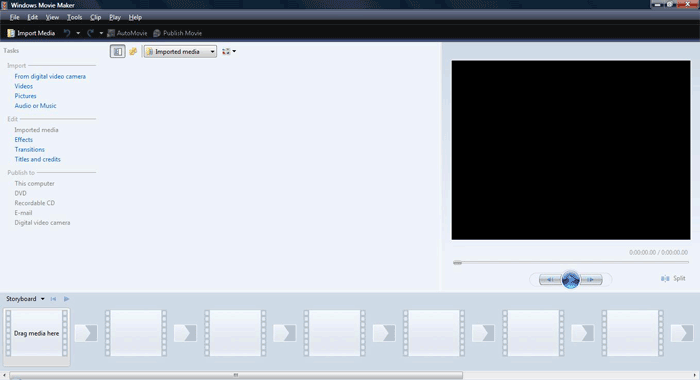 Import your clips
Go to File->Import Media Items...
Select the folder that you had VoltaicHD send its converted clips to, and click Open. The clips will load into the work area, ready for editing.
Do the 'rough cut'
This is where you preview all of your raw clips and either throw them out, or split them so that only the bits you want end up in the timeline.
To do your rough cut:
Click on the first clip in the work area. This will open it in the Preview window.
Start playing the clip (Space bar)
As you hit the start of the footage you want in your movie, click the Pause button, then click Split. This will create a new clip from the point that you paused. The clip will have (1) appended to its name.
Open the new clip in the Preview window and play it until you reach the end of the footage that you want. Click Split again.
By following this process you will end up with a set of 'rough cut' clips ready to be added to the Storyboard.
Build up the timeline
Once all of your clips are ready, add them to the Storyboard.
Select the clips that you want in your movie and drag them to the Storyboard.
Add Titles
Now that your Storyboard is done, add you Titles and Transitions.
To add a Title, just click on the Titles and Credits link on the left hand menu and follow the prompts.
Add Transitions
Transitions can be easily dragged onto the transition area between each clip. Just click on Transitions in the left hand menu, then you will see all the available transitions in the work area. Drag the one you want into the relevant transition area.
Once your Titles and Transitions are done, your Storyboard should look like this.

Movie Maker has an alternate view of the Storyboard called Timeline. This displays your movie in a timeline as you would see on a professional video editing program. This is a more advanced view and lets you work with video/title/audio layers. You will probably find the Timeline view more useful as you gain experience in editing.
Publish
Now you've got a Full HD edited movie ready to go. All you have to do is Publish it from Movie Maker, then you can use it where you like.
Go to File->Publish Movie...
Select My Computer as the destination and click Next.
NOTE: If you select DVD as the destination, your movie will be downgraded to standard definition, since DVDs can only contain standard definition footage.
You want to publish in Full HD, so we have created a Publishing profile to make this easy for you. This profile is installed when you install Voltaic HD.
NOTE: we found that using the in-built profile for WMV-HD (1080p) 'letterboxes' the final movie. This means that it creates a 4:3 ratio movie, with black space at the top and bottom. Since the in-built profile is broken, we created one that works properly. If you are on Windows XP, the WMV-HD publishing profiles will not be there, so you will need the VoltaicHD profile in order to get a correctly published movie.
Select More Setttings, then select VoltaicHD 1080. Select PAL or NTSC according to your region (Japan and USA are pretty much the only ones on NTSC).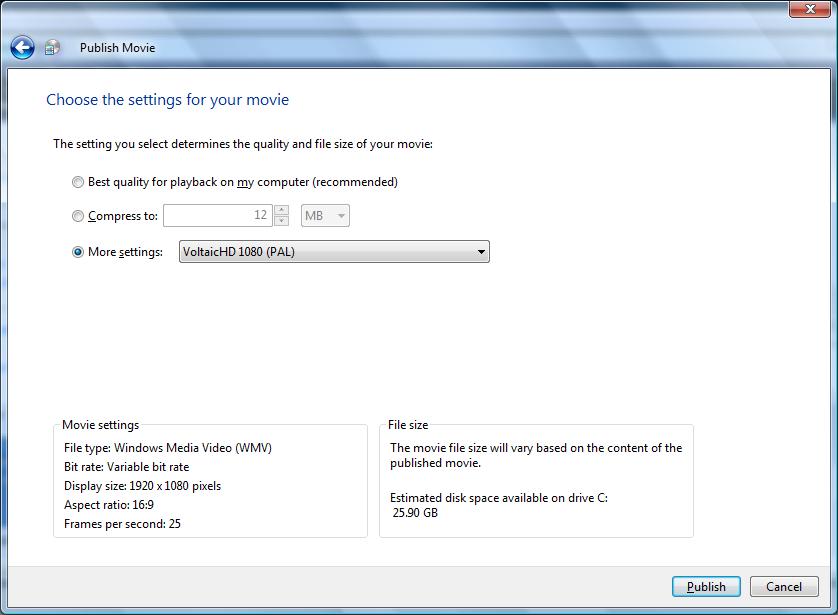 Now click Publish. Your movie will be created!
You now have a complete, Full HD (1920x1080) movie ready to go. Be aware that it is very unlikely that your PC will be able to play this movie without dropping frames (i.e. it won't be able to keep up). Don't worry about this. To watch this on the big screen, you need a media player (like an XBox) or you need to burn the movie to a DVD which plays on a Blu-ray player.
---