---
Surround sound and AVCHD
This article will show you how to edit the full surround sound from your AVCHD movies. You will need Final Cut Studio to do this.
Owners of Sony AVCHD cameras probably know that their cameras can record surround sound.
The cameras have an integrated surround sound microphone which really works quite well.
The only problem is that VoltaicHD and Apple's AVCHD converter reduce this sound from 5.1 channels to 2 channels (stereo). This makes sense in most cases because:
iMovie can only handle stereo sound; and
only the Sony cameras can record in 5.1 surround sound
Convert using VoltaicHD
The Final Cut log and transfer function will not preserve your 6 channel audio, so you have to try a different workflow.
VoltaicHD can extract the 5.1 channel AC3 audio from your AVCHD clip, so select Extract 5.1 audio in the preferences and get started. Since you are using Final Cut Pro, we also recommend using the Advanced export options to convert to ProRes422.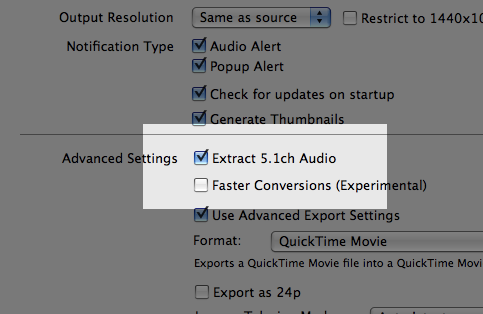 Create Final Cut Pro compatible surround audio track
Once the VoltaicHD conversion is complete, you will have your ProRes movies ready to import and your AC3 files ready to convert.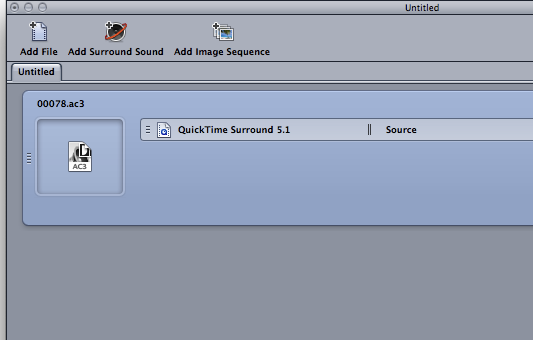 Start up Compressor and open your AC3 files. Configure to convert to Quicktime 5.1 audio, which will give you a 6 channel PCM file.
Import into Final Cut Pro
Fire up Final Cut Pro and import your movies and Quicktime audio files.
Edit in Final Cut Pro
Now you have your movies and corresponding audio tracks in your Final Cut Pro project. When editing on the timeline you will need to drop in the movie and the audio file. Remember that the movie contains the 2 channel stereo sound, so you should switch this off.
You can now play around with the levels on each surround sound track. This is easy enough to do. You just mute the channels that you are not working on and listen to the track in question.

Previous
"The ShedWorx Test Bench"
---