Submitted by brett on Tue, 20/09/2011 - 10:00
Since the introduction of iLife for Mac OS, iMovie has made video editing easy for all users of modern Apple computers.
In mid-2010 Apple made video editing mobile bringing iMovie to iOS, taking advantage of a faster iPhone 4 and updated iOS 4 software. Recent updates brought a more polished UI, new themes (audio, transitions and titles) and the availability of iMovie to the iPad.
In this post I'll be using iMovie 1.2.1 on my iPhone 4. A recent trip to a friends farm provided some content and an excuse to give iMovie on the iPhone a try.
Content Needs to be on the Phone
Before you begin make sure all your media you want to use is on the phone. If like me you sync all your photos and video taken with your phone with iPhoto and delete the originals, then sync them back to your phone with iTunes. If you have any photos taken from another camera, sync those to your phone with iTunes as well. iMovie also lets you record voiceovers, video and photos from within the app.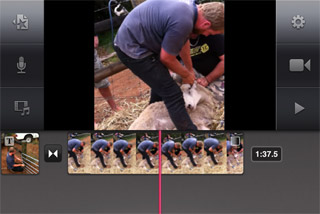 Portrait video, can't be zoomed!
Video from the iPhone, a Tip...
Something i discovered using iMovie on the iPhone - you cant zoom video! Unlike pictures which can be zoomed and Ken Burns-ified, video can only be rotated (oddly, images cannot). Keep that in mind when shooting for your next iMovie for iOS project, use all landscape or all portrait. Considering output from iMovie is 16:9, shooting in landscape is preferable.
It's all about Gestures
iMovie excels at using gestures in an intuitive way; there is no mouse cursor or timecodes here to set in and out points for video! In the editing view, pinch/zoom is primarily for scaling your view of the timeline. Undo is available via the familiar shake of the phone. Dragging clips around to organise your timeline works surprisingly well.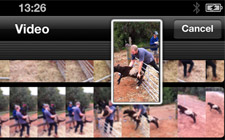 Hi-ResVideo Preview
One of the more useful gestures is the tap and hold when adding videos. This gesture shows you a better quality preview of your clip allowing you to set in and out points before you insert the clip in the timeline.
As the timeline gets crowded (iMovie allows 4 audio tracks along with the video!) this is something I quickly learned to do. One gesture that didn't seem to translate well was the slicing of video, that is to cut a length of video in two. In my project slicing seem to work randomly depending on each clip.
A list of gestures can be found in the Projects screen (bottom left, ? icon). Incidentally, renaming your project, albeit not obvious, can be done in the Projects screen as well.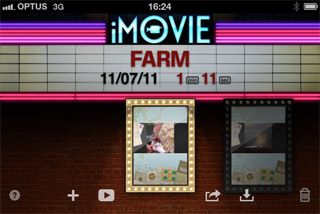 iMovie Projects screen
The End of Boring Home Videos
iMovie ships with themes to easily style your movie, and I'm sure we'll start to see a slew of YouTube videos that look great thanks to Apple.


Clip Settings to apply Themes
A theme provides music and titles (read: graphics) that can be applied, and reapplied at any stage to your project, although its not overly obvious how to fully implement themes to your timeline after you have selected one the 8 themes available in the project settings. Double-tap a clip in the timeline, and tap "Title Style" to add either Opening, Middle or Ending graphics to your clip.
Exporting is great, AppleTV is better
Once you have finished editing, iMovie for iOS lets you export you clip to numerous sources including iTunes, YouTube, Facebook and Vimeo. But for me, the highlight is playing to a AppleTV (second generation, AKA the black one). Watching your masterpiece is as simple as playing the finished movie in iMovie on your phone and then pressing the AirPlay button in the video controls to send it to an AppleTV connected on the same network. Make sure your iPhone is running iOS 4.3 and your AppleTV is up-to-date for this feature to work. Read more about AirPlay on Apple's site.
Here is the final movie!
In my next post I will look at editing videos from multiple sources, including AVCHD, using iMovie on an iPad 2.
iMovie is available from the App Store for $4.99 US
b