Submitted by justin on Fri, 23/11/2012 - 08:56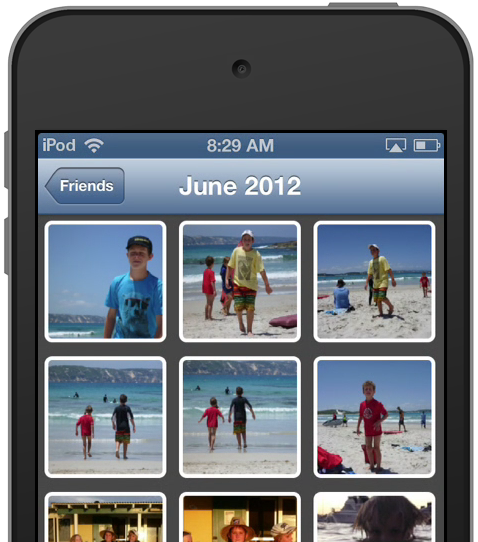 Over the past year we've been working on re-launching the Cosmos photo sharing service with a new focus.
This new focus is on privacy and absolute control over who sees your stuff.
The new app is called Loops!
A better way to share
Loops takes the photo sharing strengths of Cosmos and adds a new and improved way of sharing.
Everything in Loops now revolves around, you guessed it, a Loop.
A Loop is a group of photos and notes that you want to share with friends or family. We've found that there will always be different groups of people that you want to share photos with, and there will be different photos that you want to share with each of those groups.
With Loops, you can now create a Loop for each circle of friends that you are a part of. Every Loop member can add photos and edit anything, except for the Loop membership - only the creator can change that.
All your Apple devices
Loops has an iPhone, iPad and Mac app available which all work the same way. Every type of app allows you to take and upload/import photos, manage your Loop memberships and send photos out to other services like Facebook, Twitter and so on.
iPhone and iPod
Loops for the iPhone is our main app. Based on how we've been using Loops for the past 6 months, 90% of your time will be spent in Loops for iPhone.
You can do everything from the iPhone app - sign up, created new Loops, invite friends and of course take photos!
iPad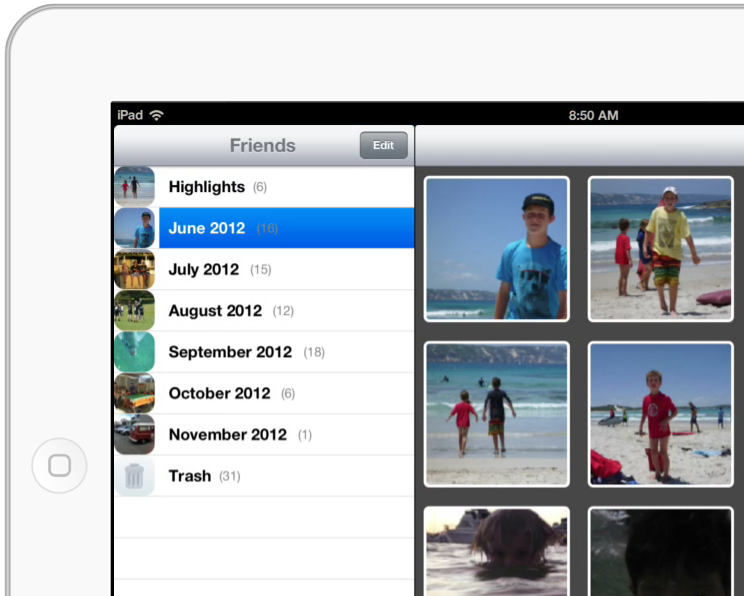 Loops for the iPad is very similar to the iPhone version but includes a better layout to take full advantage of the iPad screen size.
We've used a simple layout that lets your navigate between albums easily, leaving the majority of the screen for photo display.
Loops for iPad is a great way to run through all the photos in all your Loops with a bigger screen.
and the Mac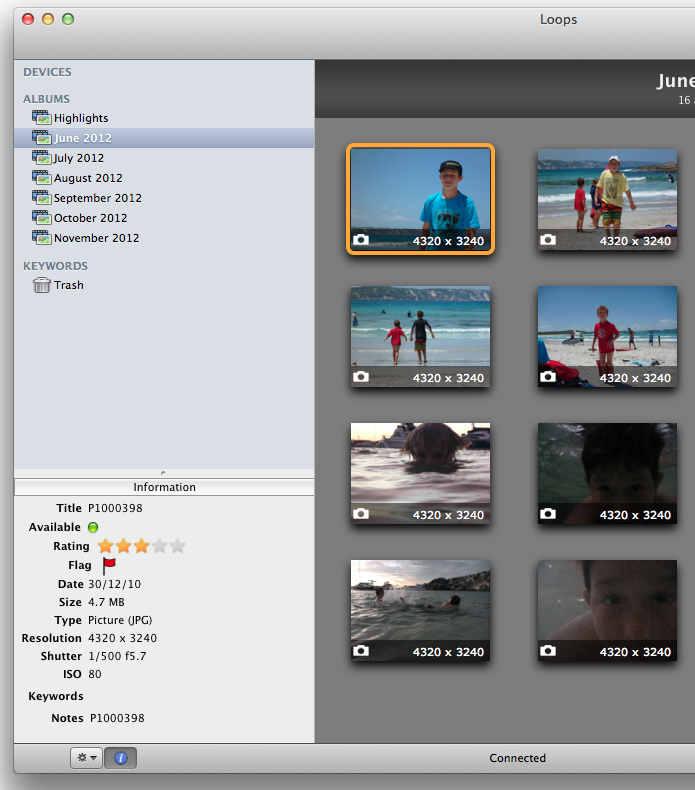 We also have a full-featured app for the Mac.
This has grown out of our original Cosmos video management application and offers a great 'home base' option for all those photos.
Loops for Mac operates in exactly the same way as the mobile versions. You still sign in to the app, have easy switching between your Loops and can also export photos easily.
Loops for Mac also includes an import feature where you can bulk import photos from your Mac and even straight off a camera that you plug in.
This gives you a great way to add photos to Loops from other cameras.
Coming very soon...
Over the past year we have used every group photo sharing service out there and think that Loops offers a better way to share photos.
We've found that there is a lot of Facebook and Instagram "fatigue" out there, caused by the incessant drive of these services to invade your privacy.
On the other end of the privacy scale we have Apple's Photo Stream which is good for some uses, but is really a backup service for your phone, not a photo sharing service.
Loops fits in the middle of these two areas. Full privacy and security but with the freedom to share whatever you want with whoever you want (as long as they have an iPhone or iPad :) )
Pricing
We decided to go for a non-advertising, paid, privacy-first service, as its what we want for ourselves.
The Loops apps will all be free, with every new account getting a free level of access. Loops Premium accounts will cost $4.99 for a year or 99c per month.
Loops is in Beta testing now and is about to be submitted to Apple. We will let you know when it hits the streets.
You can follow our progress with Loops on its Facebook page, Twitter and right here on the Shedworx blog.