Submitted by justin on Fri, 24/04/2009 - 21:10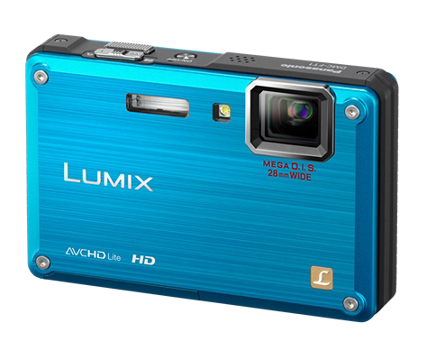 We don't normally do camera reviews here at ShedWorx, but the new camera that we've been playing around with this week really deserves a special mention. This is the most impressive camera that we have seen since we fired up our very first AVCHD camera - the Sony HDC-SR1 way back in November 2006.
The Panasonic DMC-FT1 showed up during the week and this little camera is remarkable. 1280x720p AVCHD Lite video along with 12MP still shooting. Its got 4x optical zoom and - its waterproof and shockproof!
What more could you want! This camera does everything and fits into your pocket!
Ease of use
The camera has a very cool feature (the first time I've seen it in a small camera) where it has the usual still shooting shutter release at the top, but it has a red record button on the back. In the past, you would have been forced to switch from still image to movie mode.
Even using this for just one day, this feature is great. You can be taking still images and just hit the red button and you're recording HD video.
Zooming is via a horizontal slider which I found a bit annoying compared to the usual rocker control that most cameras have.
Editing
Start up iMovie, plug in the camera and the usual stuff happens. You get the preview screen, then Import All and away it goes. The next thing you see is ERROR across all clips. iMovie09 does not support AVCHD Lite.
So, lets try that again with FlamingoHD. Fire up FlamingoHD, plug in the camera and you get the Import screen. Import All and its done, complete with Filmstrip previews (coming to you in v1.0 very soon). FlamingoHD also imported all of the still images from the camera.
Set up a Project and Send to Editor and you will soon be ready to edit.
I edited my first clips in Final Cut Express, and everything was how you would expect it. Just create a project, import from the folder created by FlamingoHD and you're ready to go.
Once editing was done I exported (using QuickTime Conversion) to AppleTV format (which is 1280x720p, H.264 video).
Video Quality
Our playback tests were done using an AppleTV, connected to a Sony Bravia X-series 46" HDTV. The AppleTV connects to a shared iTunes library on one of our iMacs over wireless.
Now I'm not going to tell you that this little camera shoots the same quality as the top of the range AVCHD cameras. The colour blends are a bit severe, low light performance isn't so good, but for general outdoor, well-lit situations the picture is excellent.
The biggest difference I noticed between the FT1 and my usual camera - the excellent Canon HF11 - was not picture quality, but stability. When the camera was completely still, in good light, you can't tell the difference in picture quality. The Canon HF11 really comes into its own with its stablising technology (OIS). The little FT1 has no such feature, so the footage is often only as good as the steadiness of your hand.
Apart from that, the final results were excellent. The quality is more than enough for those on-the-go moments where you haven't got the big video camera with you.
Samples
We'll post up a sample to our Sample Videos page soon. We'll also put up some cool underwater clips in late May.
Conclusion
This is the camera that I will be taking everywhere with me. I'll still take the "big" Canon HF-11 for more serious events, but having a little HD video camera that takes excellent still images also, is a wonderful thing.