Submitted by justin on Tue, 24/08/2010 - 05:07
3D video is on its way!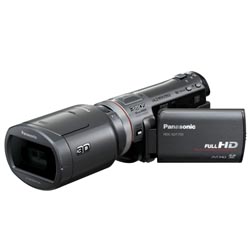 3D is now out in force in the consumer TV market and is about to appear for consumer video. Panasonic are first to market with a 3D consumer camcorder (the HDC-750K and variations) and will also release 3D lenses for their Lumix Micro 4/3 range (which includes the GH1, GF1 and G2 DSLRs). Here is a great article on the new Panasonic 3D camera from Colin at SimplyDV.
We've just updated the ShedWorx Test Bench with a Panasonic 3D TV and 3D Blu-ray player. The 3D movies are remarkably clear - much better than the 3D experience that you will get at a cinema. We're now waiting for the 3D cameras and lenses to ship to see how the 3D home movies look.
Technical Details
As far as we know (without seeing the first 3D movie samples), the 3D picture is being recorded using using a standard AVCHD format movie but with a side-by-side left/right view. 3D-capable TVs will detect the side-by-side video and display the left and right channels using 3D display.
The side-by-side approach means that each video stream will actually be 960x1080 in size. The X-axis will be "stretched" out from 960 to 1920 on playback, similar to the way older 1440x1080 cameras recorded 1920x1080 HD footage. This is a slightly lower HD format, so you can bet that there will be "Full HD 3D" entering the market next year. The beauty of the side-by-side approach is that it can be achieved without major changes to existing hardware, so that cameras such as the GH-1 can be made 3D-capable with a new lens and a firmware upgrade.
ShedWorx 3D suport
In July this year we released Native AVCHD editing for Voltaic and Revolver. Native AVCHD editing allows you to edit AVCHD footage without conversion, preserving the full quality of the original footage. It turns out that this will be perfect for 3D editing. We will release a 3D update to the whole product line, mainly to update our previewer so that it displays just one side of the dual-image video. Apart from that we will just do some testing and fine tuning of the Native AVCHD editing function and we will be right for 3D editing.
We should have some early 3D samples to work with by the end of August. We will then update our software lines to support 3D formatting so that you can edit a 3D home movie in either Voltaic or Revolver. Check back here (or even subscribe to the ShedWorx Blog in your RSS reader) and we'll post updates as we find out more.