Submitted by justin on Wed, 24/11/2010 - 12:19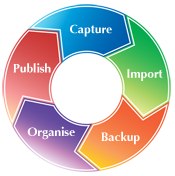 Digital Asset Management is what you do whenever you import a photo or movie to your computer, post to Facebook and Youtube or even just organise your stuff so you can find it easily.
Digital Asset Mangement is a very important part of our digital age as our memories are now being stored in random, haphazard and usually non-backed up ways on our computers.
ShedWorx is taking big steps towards making Digital Asset Management an easy, fun and safe activity for all people so that no-one loses their precious digital memories. Click here to read more about the ShedWorx Digital Asset Management Lifecycle.