Submitted by justin on Wed, 07/03/2012 - 13:05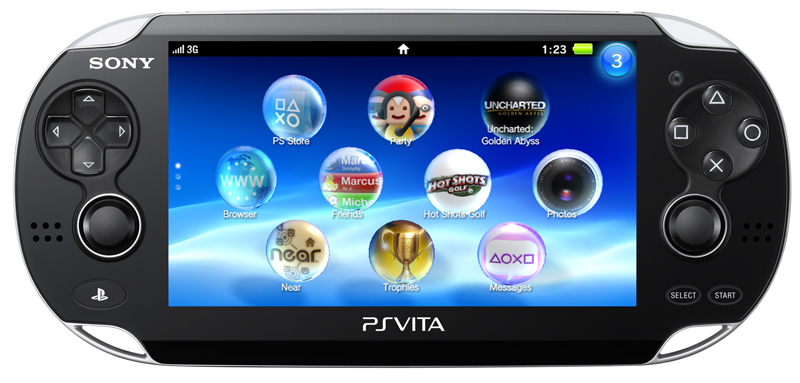 We've had a huge amount of interest in PS Vita support for Smart Converter Pro.
Any excuse to muck around with a new gaming console rather than do real work goes down well at Shedworx, so we thought we'd do the right thing and give it a go.
First up: Video
Our first challenge was to get our entire video test set converting, transferring and playing back on the PS Vita. While this work ate into valuable gaming time, we thought we should get this out of the way.
After a couple of days of testing and tweaking settings, making a few changes here and there, we were good to go.
The PS Vita will play video files up to 960x540 in size, using the h.264 codec and MP4 container. You won't see any Smart Converter ''Fast" conversions when converting for the PS Vita because of its obscure resolution. This means that every file you convert has to be converted in full.
Click here to learn more about Smart conversions.
Luckily, Smart Converter is now multi-core enabled, so these conversions will fly along, especially on new quad core Macs.
On my new MacBook Pro I converted a 25 minute video to PS Vita format in 3 minutes. Too easy!
Transferring Files using your Mac
You have to run the Content Manager Assistant on your Mac in order to transfer any files. The Vita won't mount as a drive, so you have to run this app. Fortunately there is a Mac installer for this, so download it from Sony here.
The Content Manager Assistant requires you to nominate where your photos, videos and music files will come from. I set up a PS Vita folder under Photos, Movies and Music to use for my transfers.
I then set up Smart Converter Pro to put all converted movies into the Movies/PS Vita folder, ready for transfer.
Once my batch conversion was done, I plugged in the Vita via the (supplied) USB cable. You then have to start Content Manager on the Vita, go to Video and you will see the movies on your Mac. Tap Select All and they will all copy over.
Movies on the PS Vita
The PS Vita has a 960x544 OLED screen which is quite a bit bigger than the iPhone but also quite a bit clearer.
Movies down sampled from Full HD 1080p look as sharp as ever and even with the bigger screen size makes for a far better viewing experience than to the iPhone. I've comfortably watched a full length movie on the Vita whereas I can't put up with the iPhone sized screen for that long.
Gaming
We're not huge gamers here at Shedworx but we had to give a few titles a go. Golden Abyss: Uncharted is by far the favorite and really shows you what the PS Vita is all about.
We've all heard how the iPhone and iPod Touch are killing the small handheld consoles like the Nintendo DS and previous Playstation PSP.
Not any more.
Play one game on the PS Vita and every iPhone game looks very lame. So what's the big deal? The screen is lower resolution, graphics are technically no better. It comes down to the high-end games like Uncharted. Here's what makes the PS Vita a killer gaming platform.
Bigger all round
The PS Vita has a 5" screen over the iPhone 3.5" screen. This means that the PS Vita screen has almost twice the surface area of the iPhone - a huge difference when it comes to games.
The bigger unit also fits far better in the hand compared to the iPhone. After using the Vita, the iPhone feels pokey and cramped.
OLED screen
The PS Vita has an OLED screen which basically just performs better than the TFT screens on iPhones and iPads.
OLED screens offer better contrast, better viewing in full sunlight and faster response times than TFT screens. These characteristics mean that the PS Vita OLED screen just looks better than the iPhone screen, even though it's lower resolution.
Two joysticks
You can't play these complex games on an iPhone because you lose half the screen to your thumbs. The two joystick controllers let you control the main part of the game with the right stick while using the left to change viewpoint.
As a novice gamer, I found the PS Vita controllers far easier to use than the touch screen on an iPad or iPhone.
Two button pads
Old school Playstation gamers will recognize the traditional Playstation button set on the right of the Vita. These buttons are used for the usual Jump and Shoot actions.
6 axis gyro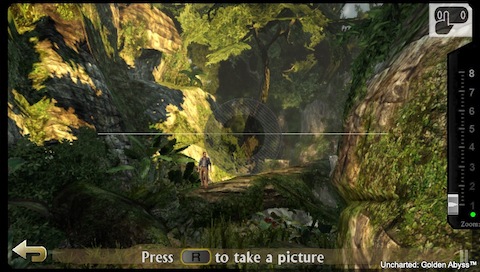 Sure, the iPhone has a gyro too, but the Vita games that we've seen so far make great use of the gyro.
The Camera in Uncharted uses the gyro to make you hold the camera level, front touch screen to zoom in/out and one of the buttons to take the photo. It sounds a bit complex but it becomes quite instinctive to use after a couple of goes.
Front touch screen
Again, the iPhone has this too, but this makes a big difference to how the PS Vita works compared to the older PSP. The whole device can be driven by touch now, so that you only switch to the buttons and joysticks when in game mode. This makes for a far better device than the PSP.
Rear touch screen
We didn't even notice this one until Uncharted got going. Using a back touch screen opens up a whole new world of games and puzzles that I'm sure will be embedded in more and more games.
Wrapping Up
I think that Sony may finally have a hit on its hands with the PS Vita. We test just about every possible tech gadget that comes along here at Shedworx and we all think that the PS Vita is awesome.
The PS Vita really is a full blown Playstation in your pocket. Fantastic game play with solid video, photo and music capabilities make it a real winner.