Submitted by justin on Wed, 17/08/2011 - 15:20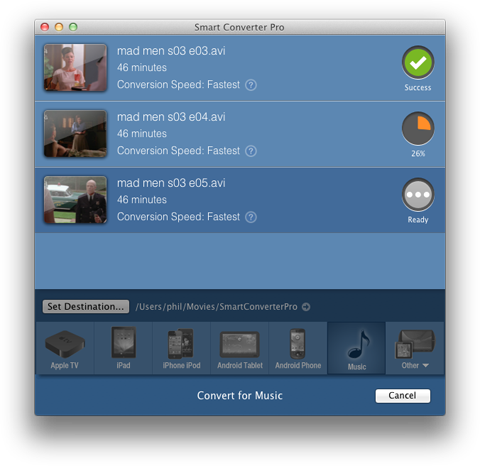 You've spoken, we've listened.
Smart Converter (Free and Pro versions) are now available on the Shedworx Store as well as the Mac App Store.
Why have we done this?
Many reasons, but here are the main ones...
VOB (DVD) Support
VOB files are the video files on a DVD. The first version of Smart Converter Free contained VOB support so that you could convert a DVD movie file.
We did not allow Smart Converter to convert copy-restricted DVDs (i.e. any commercial DVD) so we thought we were within Apple's guidelines.
When we submitted Smart Converter Pro, Apple rejected it because it contained VOB support, even though we didn't allow copy-restricted VOB files to be converted.
So, we had to remove VOB support from both the Free and Pro versions of Smart Converter that are listed on the Mac App Store.
It turns out that a lot of people used VOB conversions!
We have no restrictions on our own site, so we've enabled VOB conversions on the Smart Converter that you can download from Shedworx.
Update Speed
We have always been committed to fast fixes for serious bugs which people hit. Often, a serious bug can be fixed in minutes and released just as quickly.
Smart Converter updates have taken up to two weeks to be released on the Mac App Store.
When we make a fix, we like to be able to get it in the hands of the person who needs the fix straight away. Releasing Smart Converter on Shedworx allows us to do this.
The App Store Isn't for Everyone
While we think the Mac App Store is a great idea, we appreciate that not everyone wants to sign up to the Apple machine. For these people, there's always the Shedworx Store.
The Features We Haven't Thought Of Yet
Smart Converter will continue to grow and become more capable. Sometimes the things that we will really want to add won't fit within the Apple guidelines.
When we come across features that Apple won't allow, we will still create them, but they will only be available on the Shedworx version.
Which Version is Best for Me?
Should I buy from the Shedworx Store or the Mac App Store?
If you're reading this post, you're the kind of person who likes to find out more about the software they buy. This also means that you're more likely to care about the features we add to Smart Converter that Apple won't allow.
Whether its Smart Converter Pro or Free, the Shedworx version will always do more than the App Store version. For this reason we think you will be better off with the Shedworx version. After all, it's the one we use.