Submitted by justin on Sun, 17/07/2011 - 22:19
Its been one week since Smart Converter became the number one free app world-wide on the Mac App Store, and one week on, we're still there!
Our daily downloads are off about 30% from our peak, but they're still looking strong and we should be able to hold on to number one for a little while longer.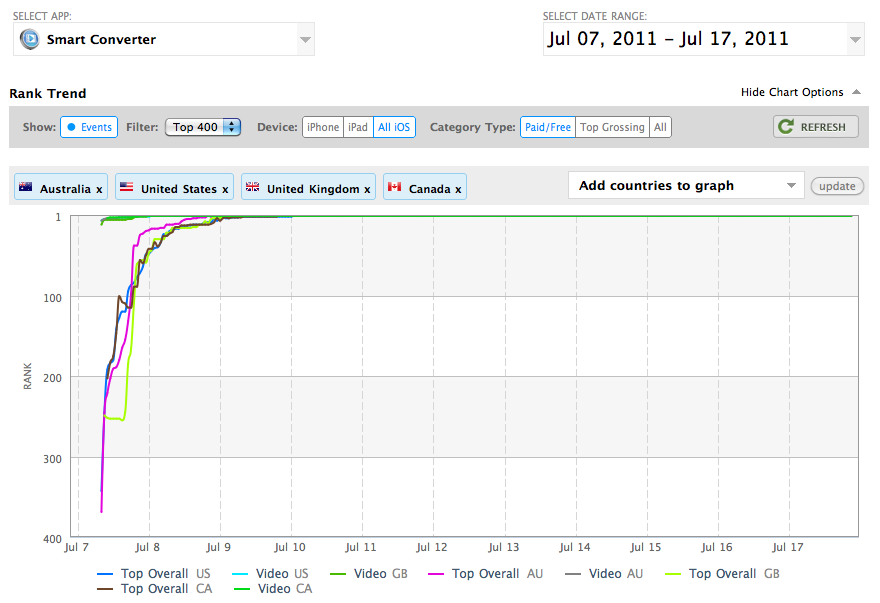 Feedback so far...
There are a lot of ratings on the App Store - averaging 3.5 stars with by far the most ratings being 5 stars. Smart Converter clearly works great for many users, but there are some conversion problems for some people too.
Most of the negative comments are for when Smart Converter doesn't work for a certain video type. This is to be expected as there is an almost infinite number of video formats and variations out there, so no single conversion app will work all the time.
What about Smart Converter Pro?
We are beta testing Smart Converter Pro right now! While it would have been nice (and maybe smart) to have Smart Converter Pro ready before we released the base version of Smart Converter, it won't be far away.
Smart Converter Pro includes all the conversion smarts from Smart Converter along with the new interface we have developed for all our converter apps. You will see the same user interface in our upcoming ReWrap app to take AVCHD files into Final Cut Pro X for Native AVCHD editing.
Smart Converter Pro includes batch conversion, some Preference settings and no ads. Depending on how well Smart Converter Pro goes, we may also add extras such as trimming and playback into the app.
Thanks again to everyone who has installed Smart Converter so far! If you haven't, grab it now.