Submitted by justin on Wed, 13/07/2011 - 15:20
At Shedworx we deal with video formats every day and sometimes forget that you, our customers, usually don't.
In this article we will cover the ins and outs of video formats, for the layman. We concentrate on video files that are created by camcorders.
Getting Started
First of all we need to cover two important terms - Codecs and Bit Rates.
What is a Codec?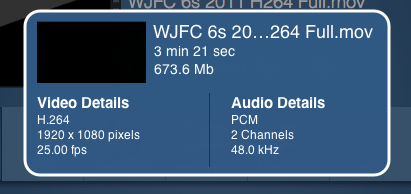 The word codec is shorthand for the term coder/decoder.
A codec is the file format and compression technique used to turn a real-world video or audio signal into a digital file or stream of data.
A codec relates only to the actual video and audio streams within a video file.
Examples of popular video codecs are:
H.264 - the de-facto industry standard for high definition video. H.264 is a very complex set of compression techniques and corresponding file storage formats; and
MPEG2 - the format used in DVDs. Note that MPEG2 is both a video codec and a container format. More on that later.
Examples of popular audio codecs are:
LPCM - Linear Pulse Code Modulation is an older audio codec that provides simple compression
Dolby Digital (also known as AC3) - this is a proprietary audio codec popular with video camera makers
You can use the Worldwide Number 1 FREE App on the Mac App Store, the Shedworx Smart Converter to get a detailed look into the video and audio codecs of your video file.
You can also look into the video and audio codecs in a video file by opening the video in QuickTime and pressing Command-i.
What is a Bit Rate?
When we talk about video most people understand that the quality of the video has a lot to do with the resolution of the video. Full HD is 1920x1080 pixels, HD is 1280x720 and Standard Definition is 720x480 (NTSC) and 720x576 (PAL).
The other big contributor to video quality is the bit rate. The bit rate is the number of bits per second required to make the video play. A bit is 0 or 1 - the smallest part of a digital file or signal.
Video bit rates are measured in millions of bits per second - megabits (Mbps).
The higher the bit rate, the more 'quality' you are getting in your video. For example, a 5 Mbps video contains one quarter of the quality of a 20 Mbps video.
You can have Full HD videos recorded at low bit rates, so they look very shabby. YouTube, for example, supports 1080p video now but at a very low bit rate - 5 Mbps. YouTube's 1080p video format is a gimmick. Rather than 1080p video at 5 Mbps they should stick to 720p video at the same bit rate for a better quality video.
Low bit rate videos become obvious when there is a lot of motion in the video. When this happens you will see lots of 'artifacts' in the video - little boxes everywhere instead of a good picture. The video will also look choppy and jumpy as it struggles to draw each frame without enough information for a good picture.
The main point here is that bit rate is as important as resolution when it comes to quality. High definition video is of no value without a high bit rate to support it.
What's in a Video File?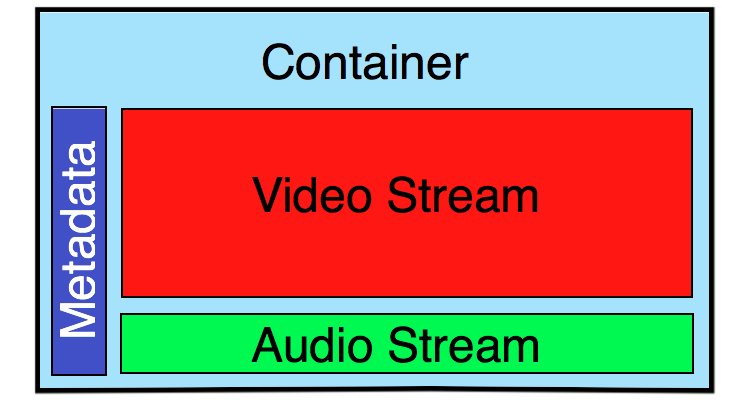 A video file is the combination of four separate things:
a Container;
some Metadata;
one or more Video Streams; and
one or more Audio Streams.
Video Container
The Video Container (also called the wrapper) is the file format that encloses the header, video stream and audio stream.
The job of the Container is to wrap up the video and audio streams and provide synchronisation and streaming support.
A Video Container usually contains one video stream and one audio stream, however multiple streams can be included. For example, 3D video can contain two separate video streams - one for each eye.
Have you ever wondered how an iTunes movie download can play on your AppleTV, iPhone and iPod? This is because the QuickTime movie contains multiple video streams at different resolutions for the different devices.
Popular video containers include:
AVCHD - AVCHD has become the industry standard for high-end consumer camcorders. AVCHD supports H.264 video and LPCM or AC3 audio.
MPEG2 - MPEG2 is used for DVDs. The MPEG2 standard includes both a container format and a codec, so the term MPEG2 can mean both the container and video codec
MPEG4 - similar to MPEG2, MPEG4 is both a container format and video codec, so the name MPEG4 can mean both things. MPEG4 is an update to the older MPEG2 standard. The video codec part of the MPEG4 standard contains 28 variants. MPEG4 video Part 10 is identical to H.264. They are the same codec standard.
Apple QuickTime - This is a general purpose container based on the MPEG4 standard. A QuickTime movie can contain a very wide range of video and audio codecs, making the QuickTime movie format extremely broad. Just because a video is in a QuickTime format doesn't mean it will play on all Apple devices. Each device (iPhone, iPad, AppleTV, etc) will have its own subset of QuickTime-supported codecs that it can play.
Metadata
A Container also contains information (or Metadata) about the video file contents. This Metadata can be the date the video was shot, resolution and even details on the video and audio codecs inside the file.
When you load up an AVCHD video into a Shedworx AVCHD product (Cosmos, VoltaicHD, RevolverHD or HD QuickLook) the information that we display comes from the Metadata of the AVCHD file.
Video Stream
The Video Stream is the picture part of the video file and contains a stream of a particular codec.
A camcorder video file will usually only contain one Video Stream, but different video files can contain many streams.
Different containers also support different video codecs. For example, AVCHD only allows H.264 video, whereas QuickTime allows a vast array of different codecs.
Audio Stream
The Audio Stream is the audio part of the video file. Just like the Video Stream, the Audio Stream will be encoded using a particular audio codec.
A camcorder video file will usually contain one Audio Stream only. Commercial videos can contain many audio streams, for example, a stream for each language the film has been translated into.
Bringing it all together
When you watch or edit a video, you are seeing all parts of the video file working together. Your device firstly had to understand the Container, then extract out the Video and Audio Streams, then start playing them in sync with each other. We take the playback of a video for granted these days but there are a lot of things that can go wrong with this.
I hope this article has shed some light on the basics of video files, containers, codecs and streams. Feel free to ask questions in the comments!